CJC-F WELCOME EVENT 2020
On the 21st of September, CJC-F's Welcome Event welcomed its members into the Forensics family. Owing to COVID-19, Welcome Event was held over Zoom, where we got to see all our new and old friends from the comfort of our homes!
Welcome Address from our Advisors
Welcome Event
started off with opening addresses from our advisors, all of whom are extremely knowledgeable and friendly!
First up was Prof Stella, who is in the special position of being both a scientist and a lawyer, with qualifications in Law, Science and Forensic Science. Prof Stella took time out of her busy schedule and spoke to us from Lornie Trail in MacRitchie, introducing us to the intriguing questions of forensic science right from the get-go.
Next, we had Benny! CJC's overall faculty advisor, he holds a Masters of Philosophy in Criminological Research from Cambridge. Prof Benny warmly welcomed us into CJC-F and gave us insights into his own interest in forensic science, readying us for the exciting journey ahead.
Last but not least was TA Zheng Yen Phua, a resident teaching assistant in the Forensic Science programme. Currently pursuing his PhD, he also received honourable mention as an expert witness at this year's Forensic Science Expert Advocacy Competition!
CJC-F Solves a… Crime…?
Following the welcome addresses from our advisors, we were introduced to "
CJC-F Solves a… Crime…?
", a time-based interactive puzzle game. The victim, Victor Wong, had been found dead on campus and we were put to the task of trying to piece together what had happened. Was he murdered? Who was the murderer? Or perhaps it was a suicide?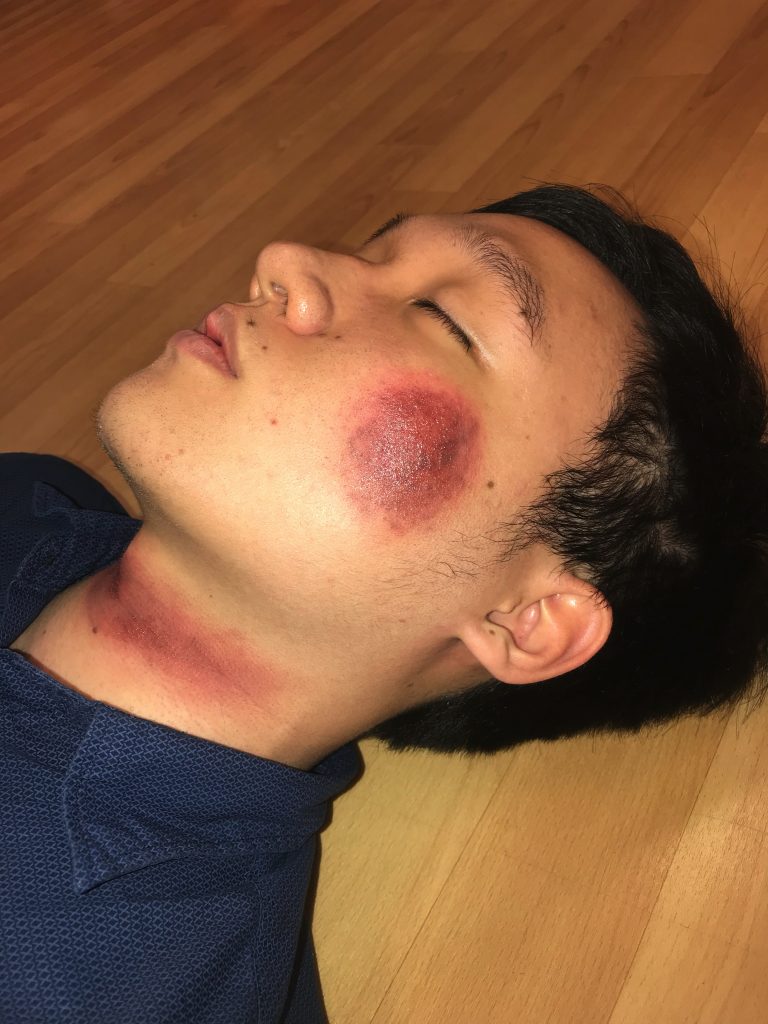 — 
Our poor hypothetical victim (don't worry the bruises are 100% make-up effects!)
In our breakout rooms, we were given the opportunity to interact more closely with a smaller group, working together to solve the crime. The event gave us evidence bit by bit, simulating a real case where not all of the evidence would be found at once. Actors were even brought in as witnesses, allowing us to try to tease information out from them; this made the game even more interactive and exciting. Having the game played on Zoom also allowed everyone in the group to be more involved, especially since we were able to look at evidence at the same time without being constrained by a lack of physical space.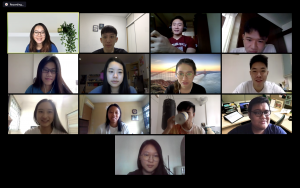 After much deliberation, discussion, and questioning, we voted for what we thought had happened and the mass game concluded with the reveal video.


— The main characters in the reveal video


While the mass game brought us much fun on a Monday morning, it also introduced us to some forensic science techniques and emphasised the importance of forensic science in solving crimes!


Individual Project Sharing
After the mass game, our Project Director Alyssa formally welcomed us into the Forensics Family and introduced us to the various projects that would be underway this year!
First, Khai and Sarhan from
Forensics in Drug Offences
introduced us to some basic drug laws and the role forensics has to play in local drug offences. They also outlined the exciting events they have planned, including potential field trips and a visit to Imaginarium!
Next up was Initiation: A Glimpse into Forensics, a writing project that seeks to bridge the gap between forensics and law. Through interviews with forensics experts and legal practitioners, Hari expressed Initiation's goal of demonstrating how forensics and the law are closely interlinked.
Finally, Diana, Jing Jie and Wei Liang introduced Forensic Psychology, a project which aims to focus on the fundamentals of forensic psychology (i.e. investigative psychology, legal courtroom psychology, and clinical psychology). Forensic Psychology outlined its plans to explore the application of psychology to the legal system through its seminars and research articles.
Conclusion
On the whole, Welcome Event 2020 certainly gave us a taster of the exciting year that lies ahead in CJC-F!


– Megan Wong (Y3, Law + Life Science)

*The views and opinions expressed in this article do not constitute legal advice and solely belong to the author and do not reflect the opinions and beliefs of the NUS Criminal Justice Club or its affiliates.

Author's Biography
Megan is currently pursuing a double degree programme in Law and Life Science. Having completed two years in Life Science, she is now in her third year of the programme. Megan took an introductory module in Forensic Science in her 2nd year of university which sparked her interest in the field. She is currently pursuing this interest by being a part of CJC-F. 
YOU MIGHT ALSO LIKE THESE